Since the weather has been warmer, Henry and I have been going outside every evening before dinner. Most kids would probably run around in the grass or throw a ball around, but do you know what Henry likes to do? He likes to sit on the grass at the edge of the parking lot a wave at the cars as people get home from work. He doesn't often wave at the same people when they get out of their cars. In person he gets a little shy I guess. But, he really enjoys waving at cars. When we read books to him he even waves at pictures of cars. When we take him to get ice cream he barely eats it because the shop is on a main road so Henry gets transfixed with watching all the cars that go by.
The other thing that Henry likes to do is run on the sidewalk around our apartment complex. He likes the sidewalk a lot better than grass, the grass is too uneven and he ends up tripping in each and every divot. There are a lot of kids in the apartment complex and sometimes if they are playing outside Henry will just stand and watch them. He's just soaking it all in.
This picture was taken by one of Henry's school teachers. And I think she really caught his essence. Henry is looking out a window at who knows what, but he sure seems to be deep in thought.
I continue to take pictures of Henry everyday at school. In the third one above, Henry has another kid's shoe, but he was in the process of taking it over to the other kid and helping him get it on. Of course Henry can't seem to keep his own shoes on anymore. He's learned how to take them off and he loves to practice things. The embarrassing part is when he takes them off in the car and I don't notice until I'm already at a store or something. I had to stand in a long line at the post office right around tax day. I was the dad whose kid was walking around with one shoe.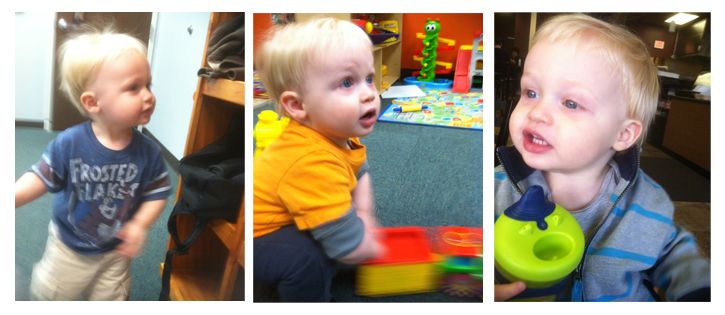 So what new tricks has Henry learned in the last month? He recognizes a lot of words. I say Henry where does your hat go and he pats his head. He can point out his nose, ears, eyes and mouth. And sometimes he'll just randomly want to touch my nose and then he has to touch Carol's nose too.
Every night before Henry's bath time we have clean up time and we clean up his toys and books and Henry has to help us. One night he started cleaning up of his own accord. We're sitting there and he just starts putting his books back on the shelf.
He's very affectionate. Sometimes he hugs Carol and then runs over and hugs me and then goes back and starts over again.
In the last couple of days he's started to really enjoy clapping. He has this toy dog that will talk if you squeeze the paws or feet and if you squeeze a certain paw a couple of times it says "yeah!" and you hear clapping. Well he'll squeeze the paw over and over again because he wants to hear the clapping and join in. But now he doesn't even need the dog because if I say "yeah!" he'll start clapping.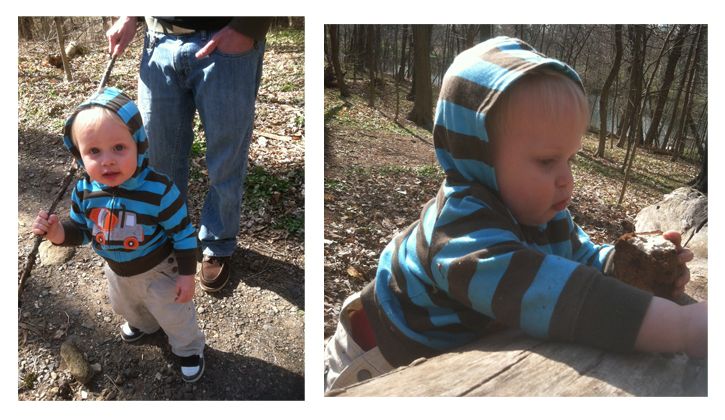 Henry loves walking through the woods mostly because he can play with big sticks and try to eat leaves.
Isn't this a great scenic local. I mean it's so pretty with the creek and the bridge. I think I'd have used it as a Christmas card or something, well except that Henry is screaming!
Carol set the track up for Henry and then took a series of pictures as he took it apart piece by piece. But when you look at the pictures backwards it looks like he's putting it together himself.