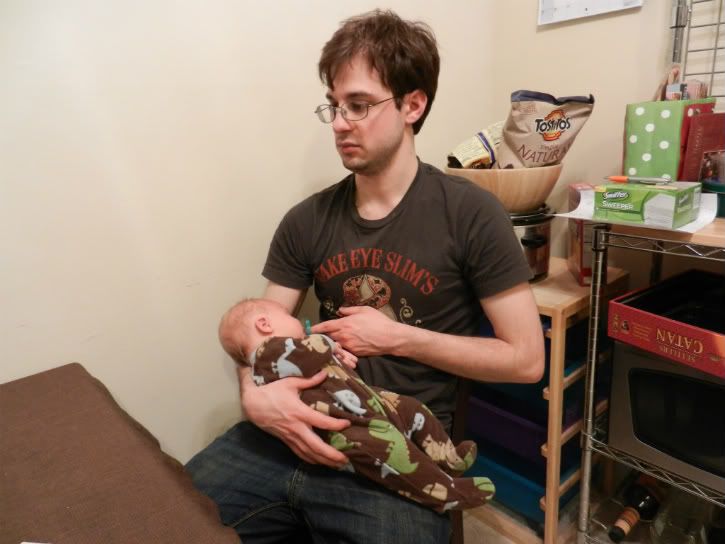 Here are some more pictures of Henry. He is a month old already. Sometimes time seems to move fast and other times it drags at a snail's pace. The above photo has gotten a lot of laughs, one of my friends (Alex) said that I looked like I wanted to die. I won't lie, Henry can be very frustrating sometime. Babies can't tell you why they are screaming and if you've tried all the obvious things and they are still screaming it gets to be pretty frustrating.
The other thing about babies is they aren't very interesting. I mean you can't have a conversation with them, they rarely smile, they don't laugh, and they hardly even look at you when you are talking to them. So I didn't feel much of a connection to Henry.
But, the other night we had a moment; He wouldn't settle down and go to sleep, he'd take his bottle for a while and close his eyes and I'd try and put him in his crib or in his seat but he'd wake up after just a minute or two and start screaming. I did this a couple of times and I was getting frustrated. He'd been changed, he was warm enough, he didn't feel much like eating and he was tired, so why wouldn't he settle down? Well, he closed his eyes while I was feeding him again and this time I just kept holding him rather then trying to put him down and he settled right down. He just wanted me to hold him. It made me feel like even though he can't communicate it yet that the little guy knows who I am and loves me. So, we're cool now. He can stay.