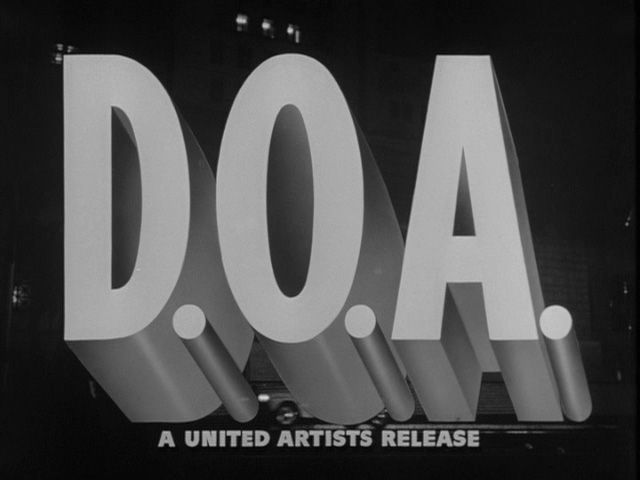 Spoilers...
D.O.A. (1950) directed by Rudolph Maté.
This minor noir stars Edward O'Brien, as Frank Bigalow. He's a businessman of some sort who does notaries. His confidential secretary Paula is also his lover. She wants to get married, but he just isn't ready to take it to the next level. He decides to go to San Francisco for a week without her. She believes to sow his wild oats. But she tells him "You don't have to ever feel guilty about anything you do there." Bigalow takes her advice and oogles women and goes to a jazz club, but after hitting on a woman and arranging a date later, he just can't betray Paula.
However, when his stomach hurts the next morning he goes to a doctor and finds out that he was poisoned the night before. He has luminous poisoning and he's going to die in a day or two or a week. What is luminous poisoning? I don't know, but a slide at the end of the film says, "luminous toxin is a descriptive term for an actual poison."
Anyway Bigalow runs through a convoluted plot involving some stolen iridium. He becomes convinced he was poisoned by George Reynolds who he discovers is really Raymond Rakubian and then discovers the guy's been dead for months.
Along the way he meets Chester played by Neville Brand, who is a psychopathic killer that talks in the third person and Miss Foster, a secretary who knows more than it seems played by Beverly Garland. It is the first role on screen for both of these actors.
In the end Bigalow solves the murders, makes his peace with Paula and has just enough time to tell the police the whole story before he drops dead.