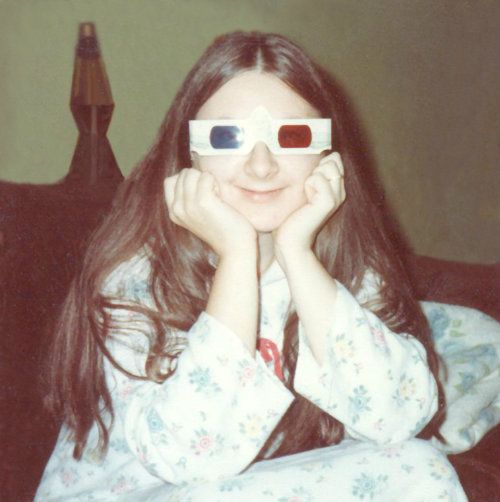 Here I am embracing the "tech" of that celebrated year, 1984 – coincidentally, the year I became a "classic" myself.- Becky.
Each week at the Classic Science Fiction Message Board we read a short science fiction piece (short story, novelette or novella). These stories are always available for FREE online so that anyone can participate in the discussion. The stories are chosen by a different member every month, so that we get to read a variety of stories. February's stories are being picked by Becky.
As a contrast to last month's modern stories (thanks, Tinkoo!), I'll be focusing on my first love, the Golden Age of science fiction (generally, the 1930s to 1960). These stories often have a twist or a laugh at the end. I note the year of each story, because it's fun to read about the author's imagined future of 30 or more years ahead, which is now our past, and compare it to what came to pass - many were remarkably correct predictions... but had a different vision of how we would respond to the changes.
I got my love of reading, and senses of curiosity and imagination, from my teacher-parents, and older sister who also became a teacher. I followed her lead into the world of science fiction, beginning at about age 12. My high school also featured some SF in the curriculum, but they were the "thought pieces" such as
Fahrenheit 451
and
1984
, rather than explorations of where science might take us. Just as the Cold War was winding down, it was the Age of Warnings from the SF community. Nuclear winter, overpopulation, and of course first contact, were some typical themes.
Rather than accumulating a library, I've used the public ones, buying primarily reference books. Now I have a Kindle, which I didn't think I'd like. The advantages I've found include increased font sizes available (if you don't need them now, you will!), built-in dictionary, tons of free books available, and no storage space worries - or dusting.
My other interests include needlework for charity, gardening, and tracing my family tree.
-Becky
-----------------------------------------------------------------------------------------------
Week #1
Cry From a Far Planet
(1958), by Tom Godwin
This week's story focuses on communication, something often ignored or easily explained away, in order to get on with other aspects of a story. However, if we're ever contacted by aliens, this is something we will most likely have to face.
Week #2
The Creature from Cleveland Depths
, by Fritz Leiber - 1962
This novella concerns how quickly technology can get out of hand – long favorite theme for SF. You'll find this an easy read that moves right along.
Week #3
Beyond Pandora
, by Robert T. Martin, 1962
Here's a super-short story, which looks at part of our everyday world from a completely different angle. Great food for thought.
Week #4
No Moving Parts
, by Murray F. Yago, 1960
Science fiction sometimes presents us with puzzles designed to get us thinking "outside the box". This puzzle story is about lost technology (and is of average short story length!) I will warn you that not all SF puzzle stories supply the answer... Enjoy!