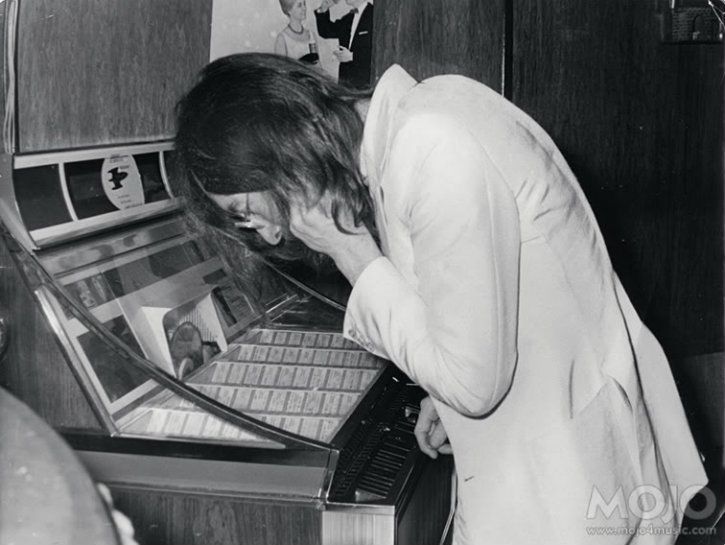 Maybe Lennon is thinking, "I have a much cooler jukebox at home."

Okay, the way the story goes is that in 1965 John Lennon bought a Swiss KB Discomatic portable jukebox. What's that you ask? It's the 1965 equivalent of an MP3 player or an i-pod. It was a suitcase-sized thing and you could fill it with 40 of your own 45s. So John bought one, I'm sure at the time only the very rich could afford a Swiss KB Discomatic, and he filled the thing with 40 of his favorite 45s and took it with him on tour. One of the 45s Daydream/ Night Owl Blues by the Lovin' Spoonful didn't come out until 1966 so we know he didn't put at least that 45 in the jukebox until then.
In 1989, the jukebox was sold for 2,500 pounds ($4,907) at a Christie's auction. John Midwinter, a Bristol-based music promoter had the jukebox for years. Did he buy it from Lennon? Did he steal it? I don't know.
The important thing is that the jukebox is a significant piece of pop culture history. The Beatles are the most important rock and roll band ever and this jukebox is a window into the mind of Lennon. What kind of music was he listening to in 1965? How did it influence his writing? How did it influence the Beatles' sound?
These are the questions I hoped to examine by studying the content of the jukebox.
So, what was in the thing anyway? Well, this is not an easy question, which is why it's been months since I first heard about the jukebox and it's taken me that long to research the songs. Now, I didn't work on this every day, just occasionally, but it's definitely taken some doing. It's definitely been more work then any other blog post I've ever done.
You see there is a list on
Wikipedia
, as well as a list on this
PBS website
, but both of these lists are just the track listings from a 2004 double CD named "John Lennon's Jukebox." Disc 1 had 20 songs and Disc 2 had 21 songs, totaling 41 songs. However, as I said in the beginning of the article the Swiss KB Discomatic held 40 45s and since 45s have an A and B side (hey, even a youngster like me knows that much) that would mean that there were 80 songs in Lennon's jukebox meaning the 2 CDs only gave us half the story.
So, before I could listen to the songs and draw my conclusions, I had to figure out what those other 39 songs were. The obvious thing to do was to say, all right since Fontella Bass's "Rescue Me" was on the CD that means that whatever the B-side was, was also in the jukebox. You also have to consider that probably Lennon bought the UK release of the 45, not the US version, so you have to make sure you find the correct edition.
Another source of information I used was a 2004 review of the Jukebox CD I found on
Amazon
. A guy named Laurence Upton seemed to have really done his research. He's made 409 Amazon reviews over the years and he seems to know what he's talking about. His review filled me in about some of the 45s that the CD skipped entirely. I tried to email him and ask him what his sources were, but he never emailed me back. The 45s he named are bolded on the list, so you can take them with a grain of salt until someone else corroborates them.
My single defeat is that even after all my research I am still short two, 45s, who knows what those 45s were. Perhaps we'll never know and perhaps it's better that way because those 45s can be whatever you want them to be.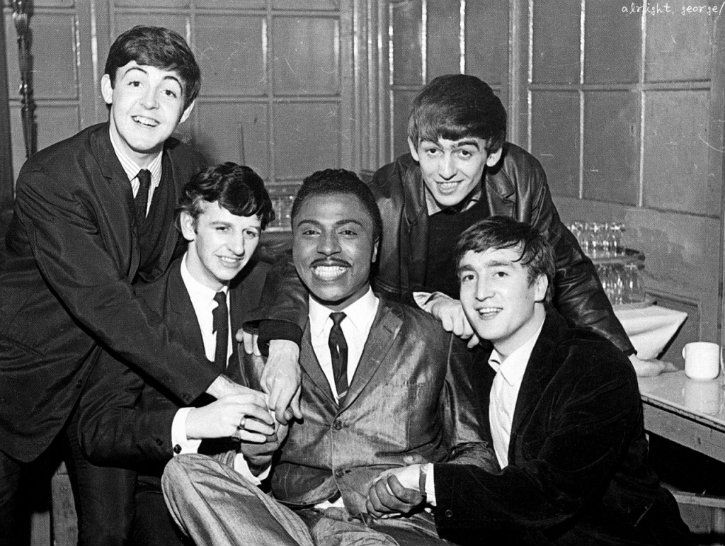 So that's the mountain of backstory, let get to the music.
One of the obvious things is that out of 40 45s only one (or three at the most, if you count the 2 mystery 45s) features a female artist. Where's the Supremes? Where's the Marvelletes? We know the Beatles listened to and appreciated girl groups, they even covered Please, Mr. Postman, and other girl groups songs. But for whatever reason the John Lennon jukebox is nearly all man.
My theory on this is that Lennon saw this jukebox not only as entertainment, but also as a tutor. He took this on tour with him and I think that he listened to it in part to remind him how to sing and how to rock. I think that Lennon to a certain degree looked up to some of the artists featured on the jukebox like Buddy Holly, Little Richard, Larry Williams and others. And I think he believed that there was always something more to learn by re-listening to the songs.
And of course Lennon and the Beatles didn't only listen to the songs. A lot of the songs on the jukebox are songs that the Beatles covered or would later cover.
Slipin' and Slidin'
(Buddy Holly and Little Richard's version are both on the jukebox) John Lennon recorded on his 1975 album
Rock 'n' Roll
.
Paul sang an amazing versions of Richard's
Ooh! My Soul
that's on the
Live at the BBC
album. Larry William's
Bad Boy
was on
Beatles VI
. The Isley Brother's
Twist and Shout
was on
Please Please Me
and was often played at their concerts as was Little Richard's
Long Tall Sally
(The Beatles released their version on an EP of the same name). Barrett Strong's,
Money (That's What I Want)
was on
Meet the Beatles
. The Beatles sang Gene Vincent's
Be-Bop-A-Lula
in their Hamburg days and Lennon and McCartney both covered the song in their solo days. In fact, someone combined Lennon and McCartney singing them solo into
one track
and it's pretty good. And there are probably other examples of Lennon jukebox songs that they covered that I'm forgetting about.
By 1965, the Beatles were no longer directly emulating the rockabilly and Motown artists that came before them and/or were their contemporaries. The Beatles had developed their own sound. But there is something to be said for appreciating things like the energy of a song, the attitude, the structure, and the writing style. For instance,
Glass Onion
from the
White Album
may have been inspired by the Larry William's song
Short Fat Fannie
the lyrics in
Fannie
featured the song titles of lots of different Rockabilly songs and
Glass Onion
features references to many different Beatles songs.
Which brings me to the topic of humor in the songs on this jukebox. Lennon often liked to put some humor in his songs, I would describe a lot of his songs as playful. On the jukebox, in addition to
Short Fat Fannie
, Williams'
Bad Boy
is also humorous. But the two most playful songs are
First I Look at the Purse
by the Contours, which is about a guy looking for a rich women to date and Chuck Berry's
No Particular Place to Go
about a missed opportunity for a liaison due to a "safety belt that wouldn't budge."

One thing that's not included on the jukebox is anything by the Beatles. Was Lennon the kind of guy that didn't like to play his own stuff, or is this more proof that it wasn't about entertainment it was about learning?
With only 80 total options it was surprising to me that Lennon put multiple versions of the same song on his jukebox. I guess he was the kind of person that can appreciate subtle nuances. I'm the type of person that can't, I'd be like, "Didn't I just hear that song?"
The original version of Some Other Guy done by Richard Barrett may have been of Lennon's jukebox. The Big Three's version definitely was. The Big Three were a fellow band from the Liverpool's Merseybeat scene. The Beatles used to sing Some Other Guy in their Cavern Club days. In fact, it's the song they're singing in the one existing film of the Beatles performing in that club that exists. It was shot on Wednesday Aug. 22, 1962. And it's the first film features their new drummer, Ringo Starr. There is no doubt in my mind that songs like Some Other Guy had very significant meaning to Lennon. This song reminded him of where the Beatles came from and reminded him of when they were just a couple of boys playing at a local club.
At the time a lot of the music in the jukebox was recent, but a lot of it was older music too. So there was some stuff that Lennon had been listening to since the Beatles were up and coming and this music had great significance to him and some of the stuff was just new stuff that he liked or maybe it was music that was new to him. If I only had room for 40 45s I'd only put stuff I really liked, but Lennon was taking this on tour with him, it is possible that he figured he wouldn't get around to listening to something or would lose it unless he put it in his handy dandy jukebox.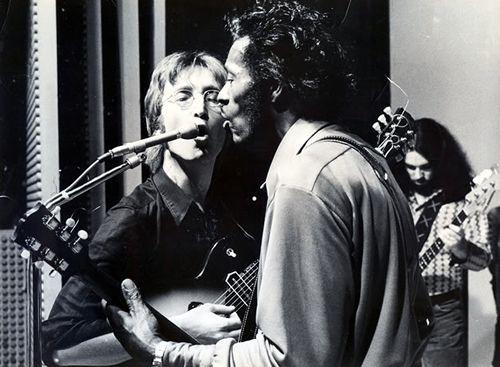 Roughly half of the 45s are by black artists. The Beatles grew up on American Rhythm and Blues and as I've already stated they admired and emulated many of these artists. I think if Lennon was here he'd say something like race didn't enter into it, if white guys would make better records I'd listen to them…Okay, we all know he'd say something much wittier and cooler.
There were at least three and possibly four 45s in the Jukebox from Smokey Robinson and the Miracles. That's more then any other artist. Gary US Bond, The Loving Spoonful, Buddy Holly, Larry Williams, and Little Richard all have only two 45s each in the jukebox. That tells me that Lennon was a fan of Robinson. I think Lennon was moved by the emotions captured in Robinson's songs, which seem so real. Lennon was the type of writer that put his heart on his sleeve in his lyrics and I think Robinson is one of the artists that helped teach him how to do that, how to make his songs have genuine emotion rather than the anonymous generality of some of the Beatle's early hits like
She Loves You
or
I Want to Hold your Hand
. Lennon is said to have been emulating the style of Robinson in the song
Ask Me Why
.
One of the running themes of the lyrics of the songs on the jukebox are songs that, for the time, talk about sex and relationships frankly. It's no surprise that this should be of interest to the guy that would go on to write Happiness is a Warm Gun. Let's look at some of the lyrics: Wilson Pickett's In the Midnight Hour, "You're the only girl I know that really loves me so in the midnight hour." She Said, Yeah by Larry Williams, "She said yeah I want to make love to you too." Pickett's b-side, I'm Not Tired, "Give me a chance to prove my love to you, alright? I've been loving you for a long, long, long, long time and I'm not tired. Honey, you know I'm not tired."
Several of the songs on the jukebox are about infidelity. Even though he
later regretted it
, Lennon wrote
Run for Your Life
about a guy who would murder his wife if she cheated on him. He would also later write
Norwegian Wood
that was about him being unfaithful to his first wife Cynthia.
Gonna Send You Back to Georgia (A City Slicker)
by Timmy Shaw tells with a woman's infidelity "I'm gonna send you back to Georgia. Girl, that's where you belong, since you got in the big city, you done started doing me wrong" Paul Revere & the Raiders'
Steppin' Out
, is another song on the jukebox that deals with female infidelity as is Tommy Tucker's
I Don't Want 'Cha (Watcha Gonna Do)
, "Soon as I walked out the door you started having a ball."
But it's not all doom and gloom for relationships on the jukebox Timmy Shaw's I'm a Lonely Guy feature these positively sweet lyrics, "It's a cruel little world without the one that you love…No one can live alone and by satisfied."
One of the instrumental themes of the music on the jukebox is that the harmonica is featured in many of the songs. Lennon played the harmonica on
Love Me Do
,
Please, Please Me
, and
From Me To You
so he was obviously interested in other songs that featured the harmonica.
Hey! Baby
by Bruce Channel, features a prominent riff from well-known harmonica player Delbert McClinton who toured with the Beatles in 1962 and claims he gave
Lennon some harmonica tips
. Lennon also probably dug the harmonica parts in Bob Dylan's
From A Buick 6
.
It's the sad truth that some of these artists that were on Lennon's jukebox and who inspired the Beatles will fade into obscurity. Here is one such artist, James Ray and here's my attempt to remember him.
Born in Washington D.C., Ray stood just 5' tall and first recorded as Little Jimmy Ray, releasing Make Her Mine on the Galliant label in 1959. It was unsuccessful and by 1961 he was destitute and living on a rooftop, though still performing in clubs. Songwriter Rudy Clark befriended him, and persuaded Gerry Granahan of Caprice Records to sign him. Using the name James Ray, his first recording was of Clark's song, If You Gotta Make a Fool of Somebody, arranged by Hutch Davie. The record was a hit on both the pop and R&B charts. The single was issued in the UK in 1962 as well, and the song was performed by the Beatles before being discovered by Freddie and the Dreamers, who took it into the UK top 5 the year after.
In the United States, Ray's single was followed by an eponymous album that contained the follow-up single Itty Bitty Pieces, which reached #41 on the Billboard pop chart, as well as Got My Mind Set on You,also written by Clark. An edited version was released later in the year as a single on the Dynamic Sound label.
Ray died from a drug overdose soon after his chart success, possibly as early as 1962, though other sources suggest he died later in the decade.
In 1988, George Harrison did a cover of Got My Mind Set On You and had a #1 hit.
This bio is from James Ray's Wikipedia entry